Finding great employees for your dental practice can be a hard thing to do, especially if you are new to the role of hiring others to work for you. But there are also some common mistakes dentists make when hiring staff. Fortunately, these mistakes can be avoided. 
A Plethora of Interview Mistakes
The interview is the first time you get to interact with a job candidate. Unfortunately, there are a ton of mistakes you can fall into during the interview process.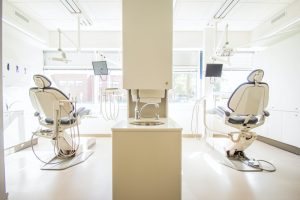 Rushing the interview: Don't wait too long to start an interview process when you know someone will be vacating a job. Also, don't rush through the actual interview. This is your chance to learn about a potential candidate before hiring them. Instead, be thorough in your interview process. Ask the candidate lots of questions and really get to know them.

Excluding key people from the process: When only one person interviews a job candidate, you leave out the opinions from some of the most important people–your team! Treat your staff like a team and include other key members in the interview process. They may notice something about a potential candidate that you didn't . Remember that saying about how two sets of eyes are better than one? 

Monopolizing the conversation: A big mistake many dentists make while hiring is spending the majority of the time talking instead of listening while interviewing a job candidate. Try to stick to a 50/50 conversational ratio. When you listen more, you'll be able to learn more about a person.

Not knowing the answers you want: If you don't know what answers you are looking for, you won't know who is the ideal candidate for the job. Don't just plan out your questions ahead of time but also know what kind of answers you are looking for. And don't be afraid to ask follow up questions to dig deeper and get those answers. 

Ignoring body language: Body language is just a form of non-verbal communication. If you ignore it, you are likely to miss clues about the person and how they handle stressful situations, how confident they are and even how friendly they are. Do they smile? Are their arms crossed? Are they perspiring? These are some key things to pay attention and how job candidates present themselves.

Failing to ensure agreement on work philosophies: It is pivotal to ensure that you choose a candidate that agrees with you on the big things, such as patient care philosophies, management style and other parts of office culture. If you don't, you are likely to end up with a division in the office that even patients may begin to notice. Be sure you ask questions in the interview process about where they stand on operating philosophy. 
To avoid mistakes in the interview process, overall, considering leaving it to the pros and hiring an employment service such as Dental Temp Staffing Solutions! We focus solely on hiring dental practice employees, so you know that you'll get the right candidate each time!
Mistakes Post-Hire
There are other mistakes you can make after hiring a new employee. Often, these mistakes set your new employee up for failure.
Giving a new hire too much responsibility up front is one such way you can set your new employee up to fail. Each dental practice is different, from policies to process to culture. To set your new employee up for success, give them time to acclimate to the office and learn before you pile too much on them. 

On the reverse side, giving a new hire too much freedom can also be a mistake. Be clear in your expectations and help guide your new hire when they need it. Put some checks and balances in place to ensure they are producing the level of work you expect before letting them loose to do work on their own. Consider pairing your new hire up with a mentor from your current staff.

Be sure to also offer adequate introductions to both the staff and your patients. Skipping this step or doing it inadequately can affect the long-term success of your new hire being trusted and accepted.